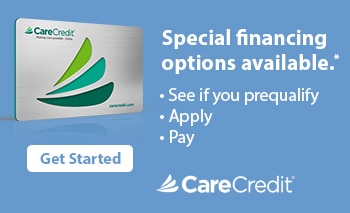 We understand patients look to stretch their hard-earned dollars.  We also understand patients want to get the best dental care they can comfortably afford.  It is for these reasons we decided to provide CareCredit payment plans for our valued patients.
As a result of CareCredit payment plans, patients with

dental insurance

can use the CareCredit card to pay for the portion of their fees not covered by their insurance carrier.  They may use CareCredit to pay for the deductible and co-payments alone.  For patients who do not have dental insurance, they can use CareCredit to pay for all their dental fees or to pay for the remainder following their payment of a separate down-payment.  With CareCredit we can provide interest-free payment plans as well as extended payment plans.
Applying for CareCredit is easy.  You may apply online on your own
through this link
.  Often you can receive an answer within a couple of minutes.  Feel free to contact us if you need assistance.  We do have many patients who have taken advantage of this simple means to pay for their care.  We do have many patients who also use this as a credit card that is separate from their Visa and MasterCard that they use for their dental expenses.

Patients have also found that CareCredit is accepted at other medical care providers like some chiropractors, physicians, and perhaps even veterinarians.
We invite you to contact us for ways CareCredit can help you to obtain the care you need or desire.