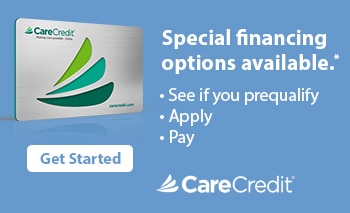 Yes, I understand many see dental care as expensive. I understand that, unlike medical visits, there is not a fixed $45 co-payment that represents your total financial investment on the dental visit. I also understand that dental expenses are not generally anticipated or planned. Moreover, with medical insurance, patients generally have an 80-20 plan, whereby more major expenses are paid by your insurance carrier at 80% following your payment of a deductible. However, in this example, dental insurance pays benefits for more major expenses generally at 50% of the carrier's allowable fee, following your payment of a deductible. Differently than these examples, some patients do not have any dental insurance and so they are responsible for the entire amount.
How can quality dentistry be affordable?
As I consider how we make quality dentistry affordable, I first come up with what may seem like an unusual response. We are honest and we respect people! This can save patients thousands of dollars alone. We have seen patients almost monthly in our office who were dissatisfied with their last dental experience elsewhere. The delivery of dental care is changing more and more from independent owner-dentists to corporate entities, chain dental clinics, and group ownership.
Moreover, insurance companies are providing controls upon dental care as well. The end result of these changes is the squeezing of profit margins. To counter that, these dental practices attempt to decrease expenses like staff costs, laboratory and supply costs, and others. Dental practices may also increase production by more aggressively diagnosing the need for care or by seeing multiple patients at the same time, among other things. Now I am not stating that individual owner-dentists are immune to this; however, with the newer deliveries of care, lower fees inherently cut into profit margins. And countering these decreased profit margins may often result in a compromised quality of dental care.
Since 1986, my practice has only been owned by me, and the quality of care and service here are our hallmarks. Patients here will always be treated honestly and with respect.
Another way quality dentistry can be made affordable is by providing numerous ways to pay, including multiple payment plan options. So while we accept payments by cash, check, and by major credit cards, as expected, we also accept several forms of payments over time. CareCredit is a credit card particularly used for medical, dental, and perhaps even veterinary expenses. With CareCredit, patients can have interest-free payment plans for up to 18 months. For patients needing even lower monthly payments, with CareCredit, patients can make extended payment terms to over 60 months. Outside of CareCredit, we do offer other options for those with more tenuous credit circumstances. Our intent is to be accessible for patients who desire and appreciate our quality of care.
Lastly, we can make quality dentistry affordable with creative treatment planning. Many times, care can be sequenced and timed to provide the "biggest bang for the buck." Over time, many patients can have a very nice healthy dental situation, when afford-ably planned.
If you value our philosophy on these issues, we welcome your perusing our website. We invite you to experience our unique brand of quality dentistry which is made affordable, by calling us at (972) 250-2580.